• to waste /weist/ [noun]:
to consume, spend, or employ uselessly or without adequate return; use to no avail or profit; squander: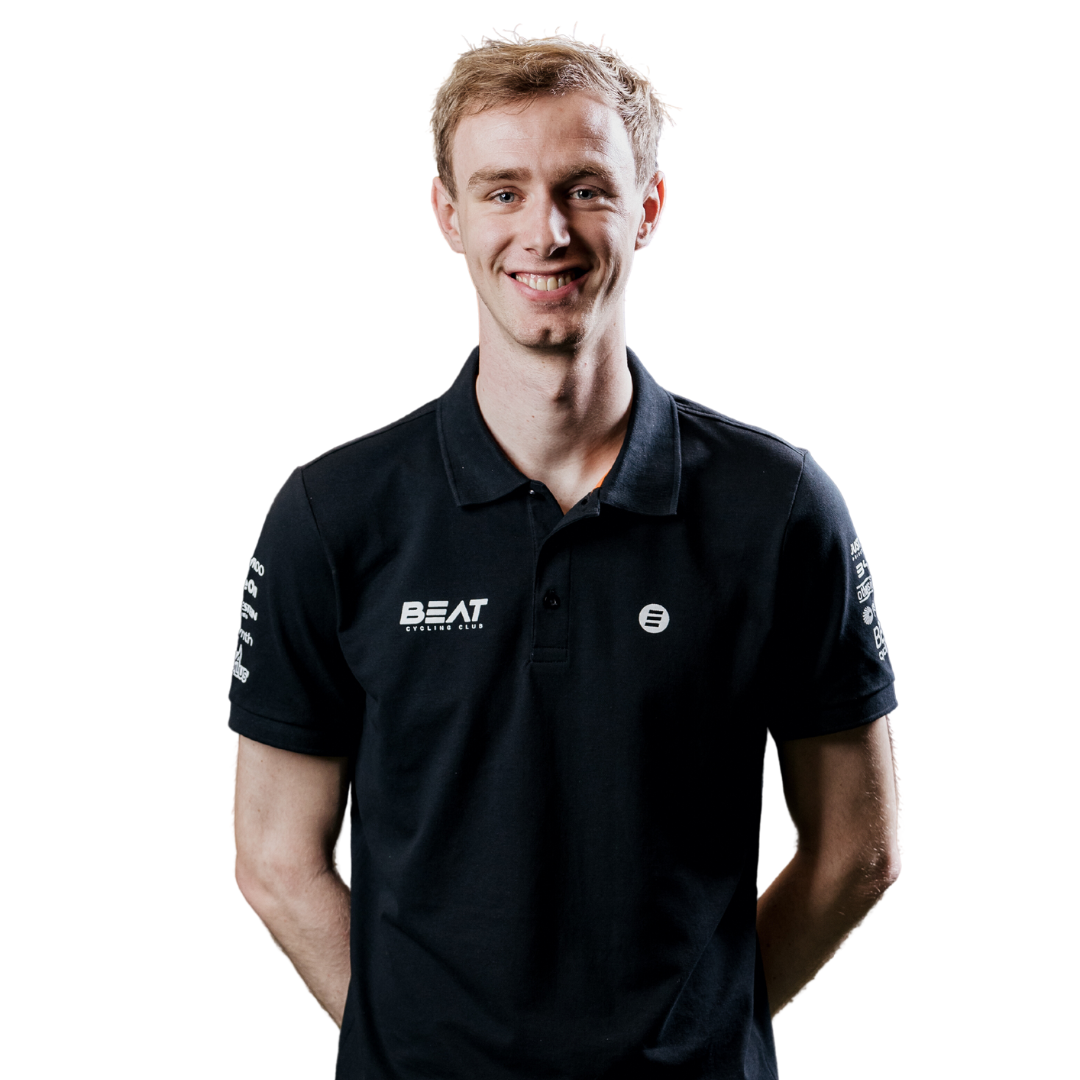 THIS IS TWAN. OUR SUSTAINABILTY GUY.
In June 2022 - during the National Cycling Championships - we announced the launch of BEAT The Waste: our mission towards a more sustainable professional cycling sport. In for penny, in for pound. So, over the past year, we have been working hard on a concrete plan. The main architect behind this? Twan van Schie.
After completing his master's thesis at the Delft University of Technology on a sustainability strategy for the professional branch of BEAT Cycling Club, Twan is now working full-time for BEAT on our sustainability plans. On this page, you'll find a teaser of his thesis, the Sustainability Playbook. We are currently working hard on it!
"As a cycling enthusiast, I want a future where cycling is still possible on our planet. Where cycling is not something that is inherently detrimental to the Earth, but contributes to a livable environment for us and everyone after us."
THE BIKE IS PART OF THE

SOLUTION

. PROFESSIONAL CYCLING IS STILL PART OF THE

PROBLEM

.

YES. WE ARE A PART OF THE PROBLEM TOO.
Our initial estimate is that our UCI Continental road cycling team was responsible for 80-120 tons of CO2 equivalent in 2022.

To offset that in a year, you would need to plant 5,000 trees (based on the conservative estimate of 25kg CO2 per tree per year).

Planting trees and offsetting is not the ultimate solution. We must first prevent and reduce emissions. Offsetting should be a last resort.

ELECTRIC TEAMCARS

NOT FEASIBLE IN CYCLING? OF COURSE THEY ARE.
WE THINK WE HAVE PROVEN THAT.
This year, we have made a structural transition to electric support vehicles. Old cars gone. No backup plan. Just trust and a willingness to learn. And it's going well.
We have demonstrated that electric vehicles can support all our ambitions, as long as you create a solid plan and adjust your mindset accordingly. We never want to go back to fossil fuel.
Want to learn more about our electric adventure? Listen to our latest podcast (in Dutch).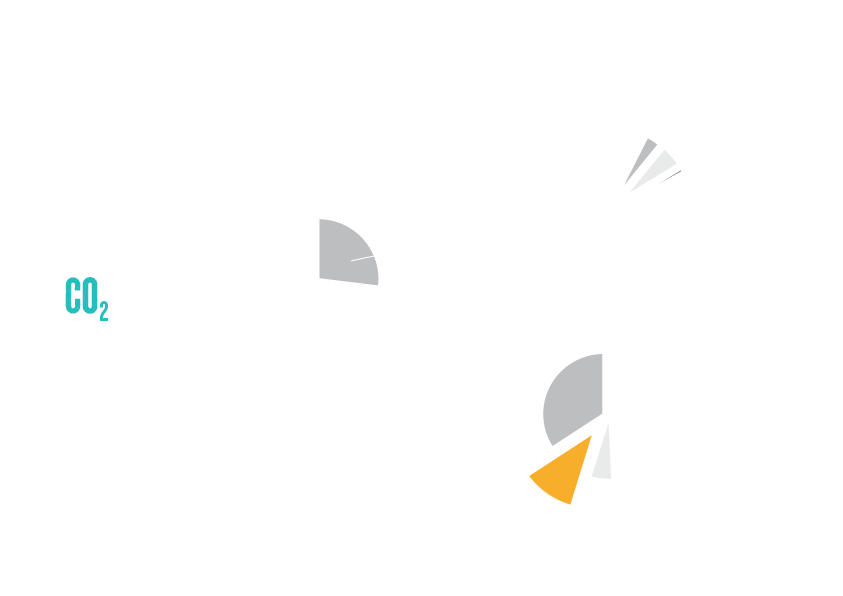 Our future plan consists of 3 phases. In each phase, we need to assume a different role to make cycling more sustainable:

It's not about being the 'best kid in class'.
By honestly and openly sharing our sustainable story, we can disrupt the status quo. Everyone is welcome to learn from us, and we are eager to learn from others as well. Ideally when things go well, but also when things go wrong.
ENTHOUSIASTIC
COLLABORATOR
Sustainability is not something we do for ourselves; we prefer to do it together.
Together with our partners, we actively work on sustainability. We are not afraid to try new things and position ourselves as a 'pilot team' for sustainability.
AMBITIOUS
INNOVATIONPUSHER
We actively speak out about sustainability; things need to change. This innovation shouldn't just come from the teams themselves, but from all sides. We want to support and push this progress by making our voice heard.

Alright. This page was the summary of what we are doing so far.
In the past year, we have worked hard on a concrete plan on how we will truly become a more sustainable cycling team.
All of this will be outlined in the Sustainability Playbook.
The Sustainability Playbook will be available from the end of September.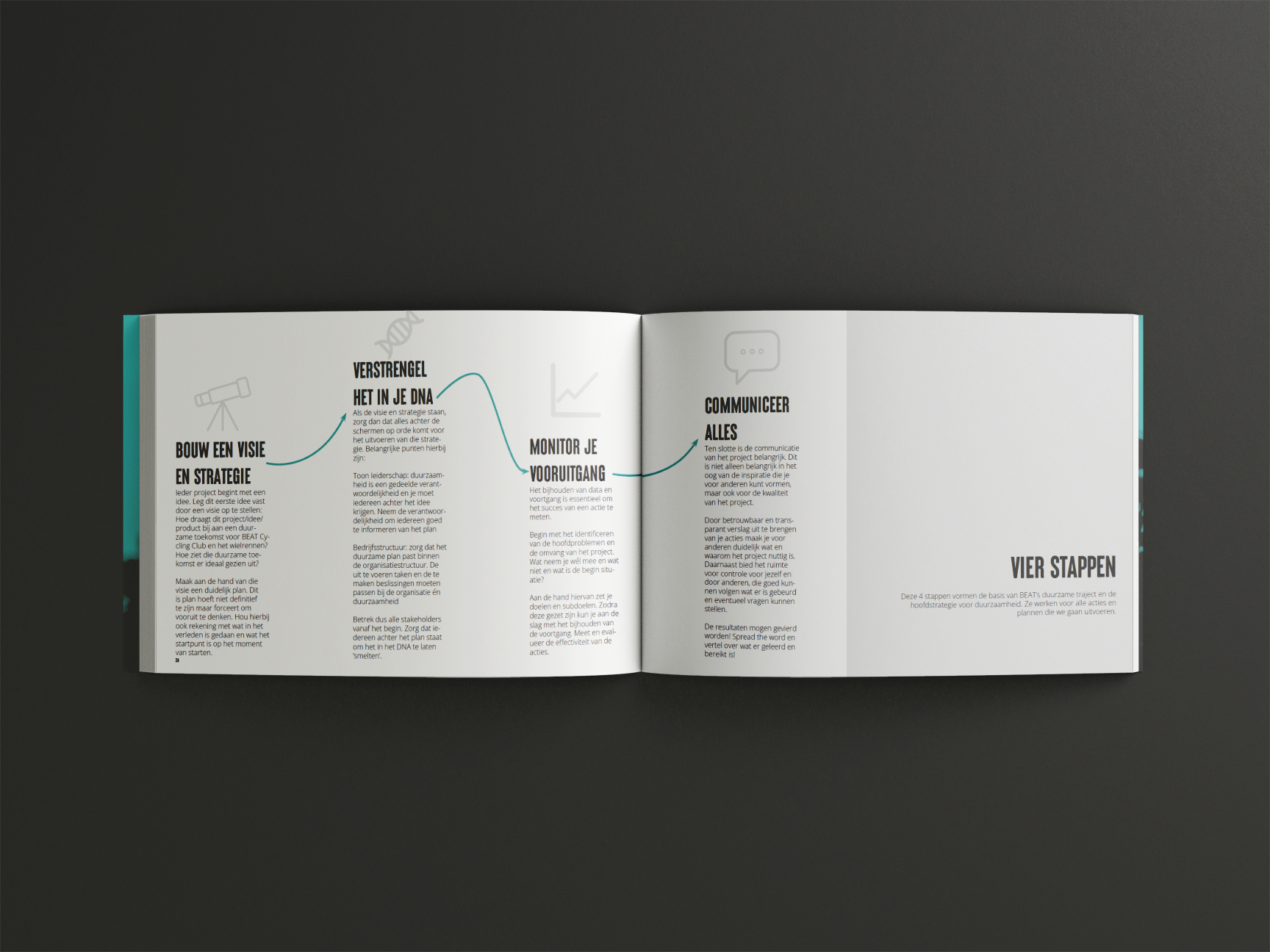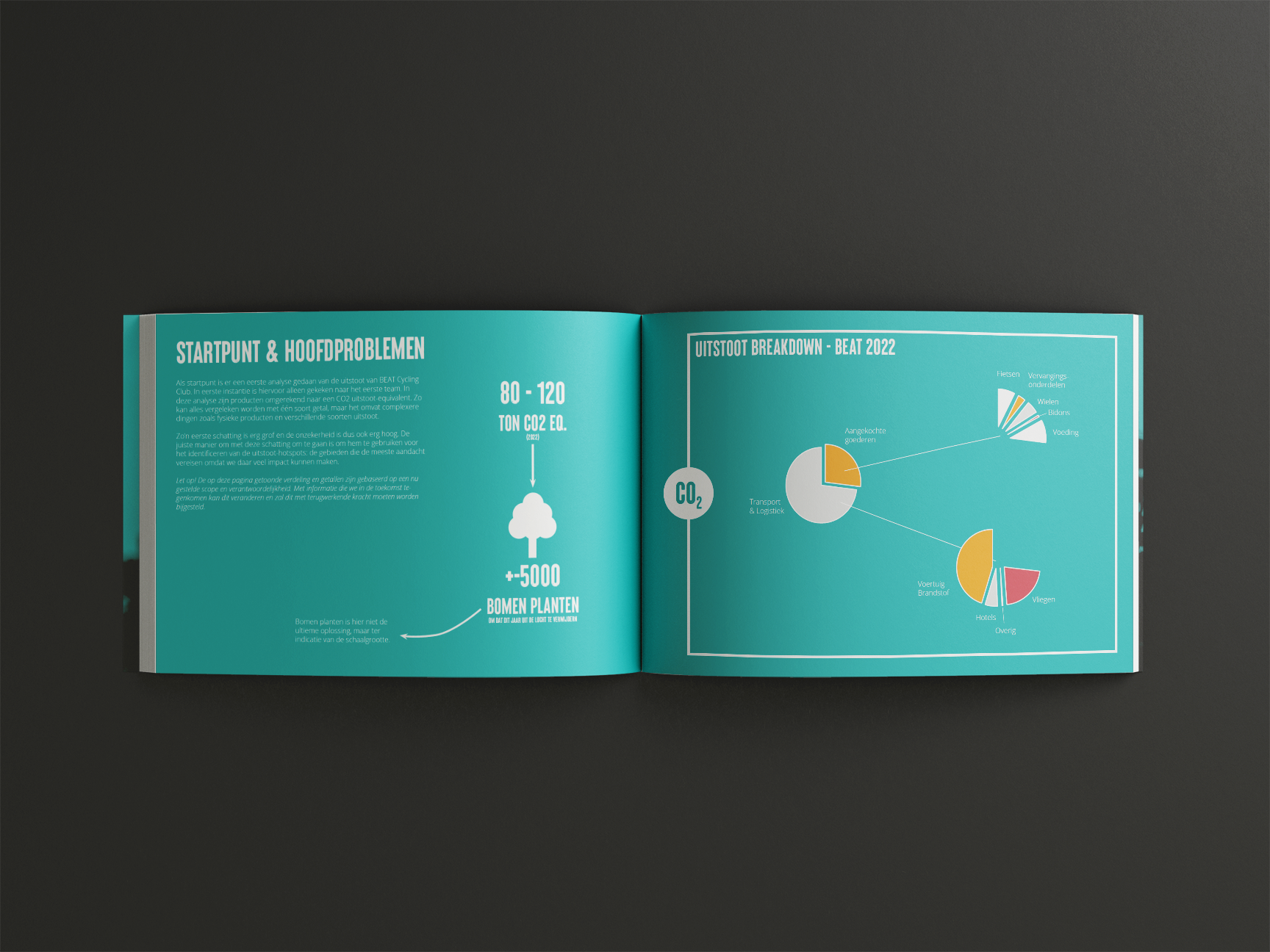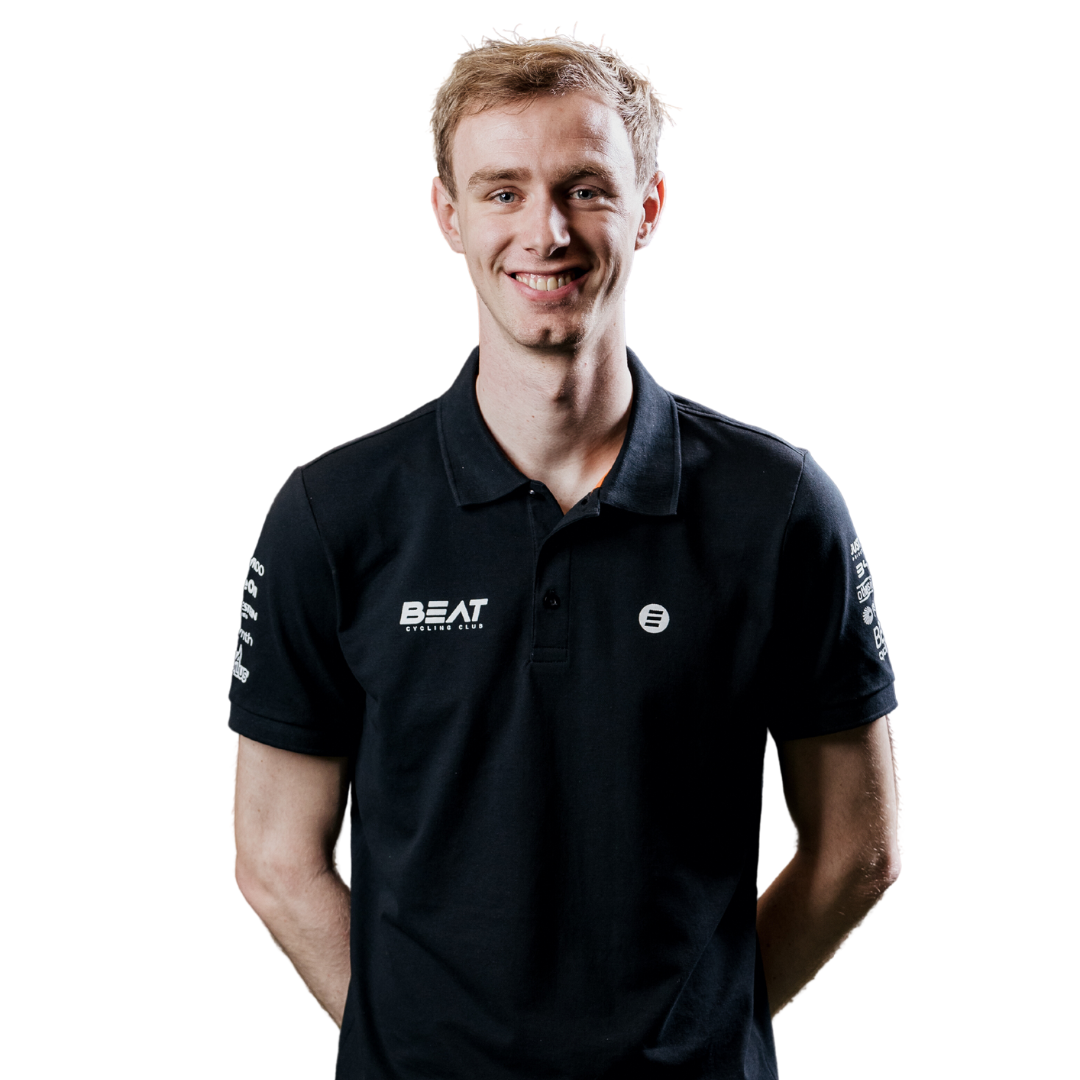 "All the above information is based on initial estimates, so please do not take them as absolute truths. Sustainability is extremely complex and has many nuances that cannot all be covered on this website. I am always open to having transparent conversations. Therefore, do not hesitate to contact me if you want to learn more (or if you want to collaborate!)."
Attention! The distribution and numbers shown on this page are based on a defined scope and responsibility that we have formulated now and are based on estimated quantities.
With information that we may encounter in the future, this scope and calculation could change, and as is customary in proper sustainability reporting, we will adjust this retroactively. For more information, please contact us.

WE WORK ON SUSTAINABILIY
TOGETHER
.
Together with 40 partners and a club of 1,500 members, we are working towards this mission.
We invite you to join us by becoming a member of BEAT.
We look forward to seeing you in our Online Clubhouse!